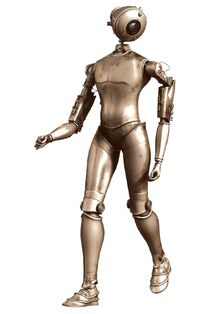 The 2JTJ personal navigation droid, designed by Genetech Corporation, was a personal aide designed to assist the newly sightless. The 2JTJ used many features of a standard protocol droid. Some of these included a silvery humanoid frame and an advanced personality program. Its head had many additional sensor nodes that enabled the droid to make infrared scans, project radar sweeps, generate echolocating pings, and fire invisible, low power lasers to measure distances. The droid also had extra-long arms to help its master in case they stumbled.
Ad blocker interference detected!
Wikia is a free-to-use site that makes money from advertising. We have a modified experience for viewers using ad blockers

Wikia is not accessible if you've made further modifications. Remove the custom ad blocker rule(s) and the page will load as expected.