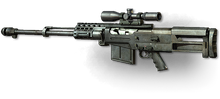 The AS50 is a .50 BMG sniper/anti-materiel rifle manufactured by British firearms producer Accuracy International. The AS50 enables operators to engage targets at very long range with high accuracy using explosive or incendiary ammunition. The AS50 employs a gas operated semi-automatic action and muzzle brake, allowing for lower recoil than the AW50 bolt action rifle and faster target acquisition. The rifle is highly transportable, ergonomic and lightweight. It can be disassembled in less than three minutes and serviced without tools. The AS50 is used by the Task Force 141
Ad blocker interference detected!
Wikia is a free-to-use site that makes money from advertising. We have a modified experience for viewers using ad blockers

Wikia is not accessible if you've made further modifications. Remove the custom ad blocker rule(s) and the page will load as expected.