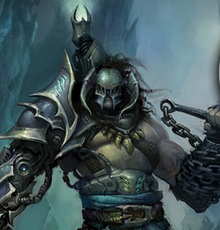 Aiakos is a well-known Cryxian soldier and the Scourge of Meredius. Having honed his skills through years of piracy upon the Meredius, Aiakos moves with his battlegroup like a specter of death both at sea, land and air, striking down foes with wicked effectiveness. Nowhere is his cruelty more apparent than other Horde forces. Originally Aiakos's weapon of choice was a chained harpoon, but when the first multiverse war struck, he replaced the chained harpoon with a new PKP Pecheneg LMG that he got that from a Axis soldier. He was a good-time friend with Arthas Menethil, a former human turned undead of the Scourge of Azeroth
Ad blocker interference detected!
Wikia is a free-to-use site that makes money from advertising. We have a modified experience for viewers using ad blockers

Wikia is not accessible if you've made further modifications. Remove the custom ad blocker rule(s) and the page will load as expected.