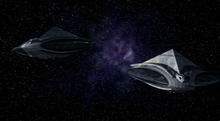 The Al'kesh is a powerful Goa'uld medium-range bomber and troop carrier used to attack fortified positions on planetary surfaces, serving a support role during invasions by System Lords. It is larger than the Tel'tak scout ship and Death Glider, yet much smaller than the Ha'tak mothership. They were used by the Axis of Empires
Ad blocker interference detected!
Wikia is a free-to-use site that makes money from advertising. We have a modified experience for viewers using ad blockers

Wikia is not accessible if you've made further modifications. Remove the custom ad blocker rule(s) and the page will load as expected.