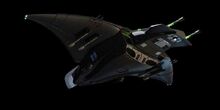 Not all police departments in the Verse can afford the latest and greatest in enforcement technology. Which is why you're not likely to see an ASREV in operation on the Rim or even on less-affluent Border and Core worlds. But that doesn't mean the local constabulary doesn't need something fast and lethal to chase down lawbreakers. It's on these worlds you might just catch a glimpse of the granddaddy of all short-range attack ships, the infamous Alliance Fast Attack Ship (AFAS). They were used by the Alliance of Nations
Ad blocker interference detected!
Wikia is a free-to-use site that makes money from advertising. We have a modified experience for viewers using ad blockers

Wikia is not accessible if you've made further modifications. Remove the custom ad blocker rule(s) and the page will load as expected.