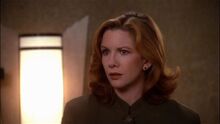 Doctor Anna Sheridan was the second wife of John Sheridan, and later an unwilling agent of the Empire of the Hand. A respected xeno-archaeologist, she held at least one PhD. Anna Keller was introduced to John Sheridan through his sister, Elizabeth Sheridan, one of her best friends. They were married on December 3rd, 2249.
Ad blocker interference detected!
Wikia is a free-to-use site that makes money from advertising. We have a modified experience for viewers using ad blockers

Wikia is not accessible if you've made further modifications. Remove the custom ad blocker rule(s) and the page will load as expected.