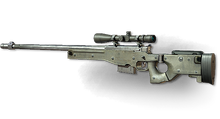 The Accuracy International Arctic Warfare rifle is a family of bolt-action sniper rifles designed and manufactured by the British company, Accuracy International. It has proved popular as a civilian, police and military rifle since its introduction in the 1980s. The rifles have some features which improve performance in very cold conditions, without impairing operation in less extreme conditions. It is used by the Alliance of Nations
Ad blocker interference detected!
Wikia is a free-to-use site that makes money from advertising. We have a modified experience for viewers using ad blockers

Wikia is not accessible if you've made further modifications. Remove the custom ad blocker rule(s) and the page will load as expected.