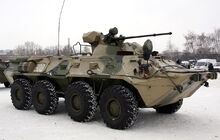 The BTR-80 (Russian: бронетранспортер, BTR stands for bronyetransportyor, literally meaning "armoured transporter") is an 8x8 wheeled amphibious armoured personnel carrier (APC) designed in the USSR. The Soviets based the BTR-80 on the BTR-70 APC. It has a single 260-hp, V-8 turbocharged, water-cooled, diesel engine, an improvement over the twin gasoline engines installed in the BTR-60 and BTR-70 vehicles. The reconfigured rear portion of the hull accommodates a new, single engine. The Soviets removed the roof chamfers of the modified BTR-70, raised the rear, and squared off the rearward-sloping engine compartment. Standard equipment include TNPO vision blocks, optical devices TNP-B and TKN-3 for the driver and commander, an OU-3GA2M infra-red search light, six 81 mm smoke grenade launchers 902V "Tucha", a radioset (R-173 or R-163-50U), an intercom and hydrojets. Today, the BTR-80 is used by the Axis of Empires and Coalition of Independent States
Ad blocker interference detected!
Wikia is a free-to-use site that makes money from advertising. We have a modified experience for viewers using ad blockers

Wikia is not accessible if you've made further modifications. Remove the custom ad blocker rule(s) and the page will load as expected.