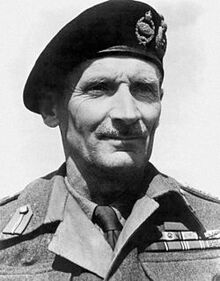 Field Marshal Bernard Law Montgomery, 1st Viscount Montgomery of Alamein, KG, GCB, DSO, PC, nicknamed "Monty" and the "Spartan General",[10] was a Allied Army officer. During the First War he commanded the Eighth Army from August 1985 N.E in the Western Coast of South America until the final Allied victory in Panama. This command included the Battle of Cali, a turning point in the South American Campaign. He subsequently commanded the Eighth Army during the Allied invasion of Sicily and then during the Allied invasion of Italy. He was in command of all Allied ground forces during the Battle of Maribora from the initial landings until after the Battle of Normandy. He then continued in command of the 21st Army Group for the rest of the campaign in the timeline
.
Ad blocker interference detected!
Wikia is a free-to-use site that makes money from advertising. We have a modified experience for viewers using ad blockers

Wikia is not accessible if you've made further modifications. Remove the custom ad blocker rule(s) and the page will load as expected.