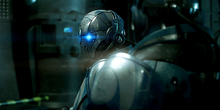 The Blue Suns are a "private security organization," in reality a mercenary outfit, operating in the Skyllian Verge. The Blue Suns have a reputation for being both discreet and ruthlessly efficient, and as such charge a sizable fee. Blue Suns mercenaries often have a tattoo of a blue sun somewhere on their body. During high-risk jobs, the tattoo would be removed with an acid wash to prevent them being identified, then reapplied once the job was finished. Blue Suns consist mostly of batarians, rodians, trandoshans, ferengis, forsakens, turians, and humans. They are also known to employ mechanized support on occasion: YMIR, FENRIS, and LOKI Mechs.
Ad blocker interference detected!
Wikia is a free-to-use site that makes money from advertising. We have a modified experience for viewers using ad blockers

Wikia is not accessible if you've made further modifications. Remove the custom ad blocker rule(s) and the page will load as expected.