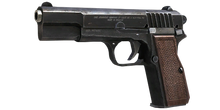 THe Browning HiPower is a reliable, medium-capacity semi-automatic pistol designed by John Browning and finalized by Dieudonné Saive, chambered in 9x19mm Parabellum and holding 13 rounds. The Hi-Power is one of the most widely used military pistols in history, having been heavily used by the Alliance of Nations, the Axis of Empires, and the Coalition of Independent States, along with independent factions such as the Ougeme Cheifdom.
Ad blocker interference detected!
Wikia is a free-to-use site that makes money from advertising. We have a modified experience for viewers using ad blockers

Wikia is not accessible if you've made further modifications. Remove the custom ad blocker rule(s) and the page will load as expected.