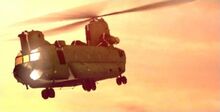 The Boeing CH-47C Chinook is an American twin-engine, tandem rotor heavy-lift helicopter. With a top speed of 170 knots it is faster than contemporary utility and attack helicopters of the 1960s. The CH-47 is one of the few aircraft of that era – along with the fixed-wing Lockheed C-130 Hercules cargo aircraft – that is still in production and front line service, with over 1,179 built to date. Its primary roles include troop movement, artillery emplacement and battlefield resupply. It has a wide loading ramp at the rear of the fuselage and three external-cargo hooks. The CH-47 is a popular transport helicopter, having used by the Alliance of Nations.
Ad blocker interference detected!
Wikia is a free-to-use site that makes money from advertising. We have a modified experience for viewers using ad blockers

Wikia is not accessible if you've made further modifications. Remove the custom ad blocker rule(s) and the page will load as expected.