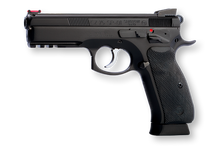 The CZ-75 is a semi-automatic pistol made by Česká zbrojovka Uherský Brod (CZUB) in the Czech Republic. First introduced in 1975, it features a staggered-column magazine, double-action trigger, and is based off the Browning High-Power design. It can be chambered in either 9x19mm or 40 S&W. It is used by the Axis of Empires as their main handgun of choice
Ad blocker interference detected!
Wikia is a free-to-use site that makes money from advertising. We have a modified experience for viewers using ad blockers

Wikia is not accessible if you've made further modifications. Remove the custom ad blocker rule(s) and the page will load as expected.