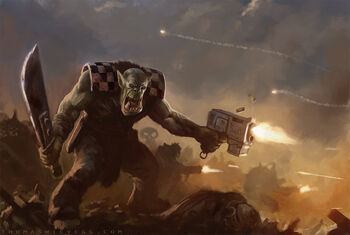 The
Chaos Wars
, also refer to as the
Coalition-Alliance War
,
War of Order
and the
Horde War
, was a conflict that occured between the
Alliance of Civilizations
and the
Coalition of Independent States from
October 5th, 2457 to November 4th, 2909, the war was fought in largely in the newly discovered universes that was not affected by the
First Multiverse War
after defeat the axis of empires the alliance of nations are already in a war with the coalition .The coalition attack the multiverse the allies decided to declare war on the coalition and result a war full of chaos
Factions involved
Edit
Alliance of Civilizations
Edit
Coalition of Independent States
Edit
People involved
Edit
Alliance of Nations
Edit
Jonathan J. O'Neill
Henry Landry
Lando Calrissian
Dwight Eisenhower
William Adama
Gial Ackbar
Jarvan IV
Douglas MacArthur
Omar Bradley
Commander Cody
Commander Bly
Commander Magni Bronzebeard
Col Serra
Jacob Keyes
Allison Jakes
Sera (Ou'hjik)
Marian Hawke
Cassandra Pentaghast
Mace Windu
Eva McKenna
Rex (CT-7567)
James T. Kirk
Mark Sheppard
Ki-Adi-Mundi
Ezra Loomis
Alfred Bester
Kara Thrace
Plo Koon
Commander Jack Granger
Princess Anij
Leia Organa
Mon Mothma
Michael Garibaldi
Beverly Crusher
Mele-On Grayza
Cameron Mitchell
Vesemir
Taylor H. Miles
Leliana
Commander Jeffrey Sinclair
Robert Bingham
Giles Price II
Anakin Skywalker
Coalition of Independent States
Warboss Gorgutz 'ead Unter
Ghazghkull Mag Uruk Thraka
Unknown Chimeran General
Praetor Shinzon (secretly)
Warlord Ru'afo
Arthas Menethil
Ka'hairal Balak
Queen Azshara
The Fuhrer of the Fourth Reich
Rictus Erectus
Pagan Min
Vaas Montenegro
Warboss Grimskull
Amita
Sarah Kerrigan
Corax Hasht
Hoyt Volker
Raynar Thul
Tsavong Lah
Ta'Lon
Mei Feng
Nom Amor
Immortan Joe
Dash Rendar
G'Kar
Vol'jin
Zeri
Rasputina
Weyoun
Dengar (Hired by Sylvanas)
Bossk
Freia
Varion
Madame Sybelle
Sonnia Criid
Anyat
Pekt
Zuckuss (hired by Gorgutz)
Shimrra Jamaane
Perdita Ortega
Agent Cadmus-Naish Sheskiin
Silri
Viqi Shesh
Von Schill
Raktorak
Greedo
Na'Toth
Kornak Gazarot
Lilith
Jastor Gallywix
Lady Justice
Mikella
Lucas McCabe
Sidir Alchibal
Aiakos
Urai Fen
IG-88
Lady Vashj
Shiv'kala
Magnus the Traitor
Eliphas the Inheritor
Khan Noonien Singh
Tyber Zann
Araghast the Pillager
Dark Lady Sylvanas Windrunner
other Conflicts
Edit
Ad blocker interference detected!
Wikia is a free-to-use site that makes money from advertising. We have a modified experience for viewers using ad blockers

Wikia is not accessible if you've made further modifications. Remove the custom ad blocker rule(s) and the page will load as expected.