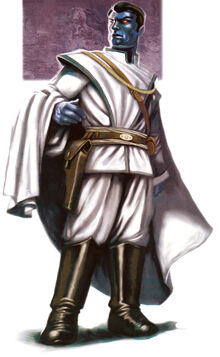 The Chiss (Second Human Empire name Hamo Xiiki'looii) were a tall, blue-skinned Near-Human civilization from the planet Csilla in the Unknown Regions, best known to most Humans as the people to which Grand Admiral Thrawn belonged. Due to the remote position of their home territory in the Chiss Ascendancy they remained largely an enigma to the rest of the galaxy, and contact with outsiders was limited to all other members. The Chiss were a near-Human species distinguished by their blue skin and glowing red eyes, which grew darker depending on the oxygen content of their surroundings. The more oxygen present, the more intense the color of their eyes and skin tone. While their hair was typically jet black, it did on rare occasions go gray with age (most Chiss believed that the development of gray hair was an indication of the siring of exceptional children).[3] Their physical form led to some speculation on whether they were an offshoot of humanity's ancient expansions into the galaxy or whether their physical form coincidentally matched that of Humans.[4] However, genetic analysis indicated that they were an offshoot of humanity, and it was believed that moving underground led to a divergence between them and baseline Humans. Furthermore, this analysis indicated that their unique skin tone was the result of exposure to glacial minerals.[5] Their blue skin, jet black hair and red eyes generally commanded attention once they were in a crowd of regular humanoids, and these features made them physically striking and instantly recognizable.[6]. Male and female Chiss tend to be more powerfully built when compared to Humans but exhibit the same variances as Humanoid sexes. A Chiss stood between either 1.6 to 2.1 meters in height[3] though an average height of an adult was believed to be 1.7 meters. Though the Chiss joined the Axis of Empires in response to the Awoken joining the Allies, another type of blue-skinned humanoids and became major members of the Imperialists
Ad blocker interference detected!
Wikia is a free-to-use site that makes money from advertising. We have a modified experience for viewers using ad blockers

Wikia is not accessible if you've made further modifications. Remove the custom ad blocker rule(s) and the page will load as expected.