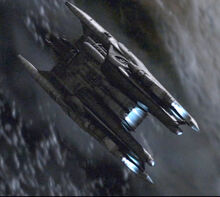 A Heavy Raider is a Cylon dual purpose attack and transport spacecraft, analogous to the Colonial's Raptor vehicle. It is nicknamed a "turkey" by Allied forces. The Heavy Raider shares many design similarities with the rest of the Cylon fleet, featuring an autonomous bio-mechanical design. However, this craft is also easily piloted by Centurions or Humanoid Cylons if needed. The Heavy Raider has no windows, and any Cylon piloting the craft must rely on telemetry delivered to a Datastream inside the craft for operation. They were used by the Axis of Empires
Ad blocker interference detected!
Wikia is a free-to-use site that makes money from advertising. We have a modified experience for viewers using ad blockers

Wikia is not accessible if you've made further modifications. Remove the custom ad blocker rule(s) and the page will load as expected.