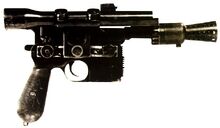 The BlasTech Industries DL-44 heavy blaster pistol was a powerful sidearm from the time of the First War. The DL-44 was a powerful, highly modifiable and accurate blaster pistol. It packed a heavy punch compared to other pistols without losing accuracy, which made it a prime choice among many groups and individuals, ranging from smugglers and bounty hunters to military and the Allies. Aside from being a powerful and reliable sidearm, the weapon had other attractive features such as a vibration system built into the handgrip that pulsed gently to alert the user that the weapon had only five shots left, and the ability to charge a bolt twice as powerful into a capacitor without damaging the sidearm. Like most handguns, its gear typically included a motion-sensitive scope and galven circuitry that allowed the pistol to deal more damage with a normal energy drain and fire rate. It should be note that the DL-44 is the signature weapon of Han Solo
Ad blocker interference detected!
Wikia is a free-to-use site that makes money from advertising. We have a modified experience for viewers using ad blockers

Wikia is not accessible if you've made further modifications. Remove the custom ad blocker rule(s) and the page will load as expected.