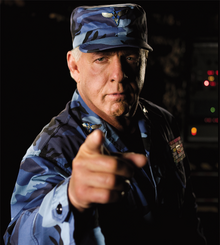 Douglas Hill is an Allied soldier in the multiverse. He is a veteran of the battlefield, disgruntled with the way the war is being handled. Hill took charge of the Alliance Joint Military to show the troops how it's done. He is enormously hateful towards the Orks and the Nazis (particularly Wilhelm Strasse). He was later commanding their troops in the Planet Frontier
Ad blocker interference detected!
Wikia is a free-to-use site that makes money from advertising. We have a modified experience for viewers using ad blockers

Wikia is not accessible if you've made further modifications. Remove the custom ad blocker rule(s) and the page will load as expected.