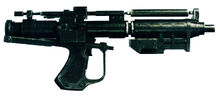 The E-5 blaster rifle was the standard-issue armament of the OOM and B1 battle droids and the elite BX-series droid commando. The E-5 blaster rifle was a powerful, light, but somewhat inaccurate weapon. The E-5 blaster rifle was manufactured by Baktoid Armor Workshop on order from the Trade Federation for their Droid Army. The weapon had a large gas chamber that allowed for powerful blasts. It was originally a BlasTech design that was reverse-engineered by Baktoid Armor Workshop for use by its droid troopers. The fact that the weapon was intended for use by non-living wielders allowed BAW to skimp on some of the finer points-such as the fact that short barreled weapons are comparatively fragile and produce great deal of heat over repeated firings. While these factors might inconvenience a human soldier, a Baktoid Battle Droid has no complaints. They were used by the Axis of Empires
Ad blocker interference detected!
Wikia is a free-to-use site that makes money from advertising. We have a modified experience for viewers using ad blockers

Wikia is not accessible if you've made further modifications. Remove the custom ad blocker rule(s) and the page will load as expected.