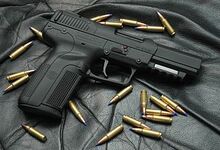 The FN Five-Seven is a semi-automatic pistol designed and manufactured by FN Herstal in Belgium. The pistol is named for its 5.7x28mm cartridge, the same one used in the FN P90 and it can accept 20 and 30-round magazines. Its externals are made largely of polymer, thus reducing the weight drastically. It is used by the Alliance of Nations.
Ad blocker interference detected!
Wikia is a free-to-use site that makes money from advertising. We have a modified experience for viewers using ad blockers

Wikia is not accessible if you've made further modifications. Remove the custom ad blocker rule(s) and the page will load as expected.