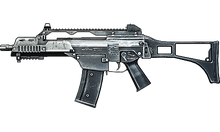 The Heckler & Koch G36 is a 5.56×45mm assault rifle, designed in the early 1990s (1320s N.E) by Heckler & Koch (H&K) in Germany as a replacement for the heavier 7.62mm G3 battle rifle. It was accepted into service with the Bundeswehr in 1995, replacing the G3. The G36 is gas-operated and feeds from a 30-round translucent detachable box magazine or a 100-round C-Mag drum magazine. It is heavily favored by the Alliance of Nations' Special Forces (Notably the Task Force 141)
Ad blocker interference detected!
Wikia is a free-to-use site that makes money from advertising. We have a modified experience for viewers using ad blockers

Wikia is not accessible if you've made further modifications. Remove the custom ad blocker rule(s) and the page will load as expected.