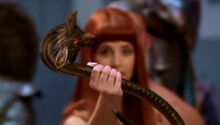 The Goa'uld (pronounced "Go-wah-oold") (Second Human Empire: Slaver of the mind) are a race of sentient parasitic beings that take over hosts. Several species can serve as hosts, including humans and Unas. They originated on the planet designated P3X-888. They are also extremely egomaniacal due to their genetic memory and the adverse mental effects of the Sarcophagus technology. Goa'uld means "god" in the Goa'uld language. Races which will not serve them are completely destroyed without compromise or mercy whatsoever. Although the majority of them are one-dimensionally genocidal, megalomaniacal, and in some cases (such as Cronus, and, to a lesser extent, Ra) apparently barely self-aware (living out the patterns of their behavior as they existed thousands of years ago), there were a few exceptions. Apophis at times showed an unusual amount of insight, lucidity, and tenacity for a Goa'uld. The Goa'uld joined the Axis of Empires
Ad blocker interference detected!
Wikia is a free-to-use site that makes money from advertising. We have a modified experience for viewers using ad blockers

Wikia is not accessible if you've made further modifications. Remove the custom ad blocker rule(s) and the page will load as expected.