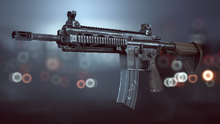 The Heckler & Koch HK416 is an assault rifle/carbine designed and manufactured by Heckler & Koch. It is based on the AR-15 platform, and was originally conceived as an improvement to the Colt M4 carbine family issued to the U.S. military, with the notable inclusion of an HK-proprietary short-stroke gas piston system derived from the Heckler & Koch G36. Many customers can purchase a new upper receiver, buffer, and drive spring to refurbish existing AR-15s, or buy new complete HK416s. The HK416 uses a HK-proprietary short-stroke gas system that derives from the HK G36, forgoing the direct impingement gas system standard in AR-15 rifles.[7] The HK G36 gas system was in turn partially derived from the AR-18 assault rifle designed in 1963.[8] The HK system uses a short-stroke piston driving an operating rod to force the bolt carrier to the rear. This design prevents combustion gases from entering the weapon's interior—a shortcoming with direct impingement systems.[9] The reduction in heat and fouling of the bolt carrier group increases the reliability of the weapon and extends the interval between stoppages. It also reduces operator cleaning time and stress on critical components. According to H&K, "...experience that Heckler & Koch gained during its highly successful 'midlife improvement programme' for the British Army SA80 assault rifle, have now borne fruit in the HK416.
It is heavily used by the Alliance of Nations, the Axis of Empires, and the Coalition of Independent States.
Alliance of Nations
Edit
Axis of Empires
Edit
Coalition of Independent States
Edit
Independent
Edit
Ad blocker interference detected!
Wikia is a free-to-use site that makes money from advertising. We have a modified experience for viewers using ad blockers

Wikia is not accessible if you've made further modifications. Remove the custom ad blocker rule(s) and the page will load as expected.