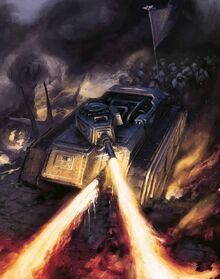 The Hellhound is an Imperial Guard flame tank, based on the chassis of the Chimera. It is armed with a large flamer known as an Inferno Cannon, discharging lethal self-igniting chemicals to flush out infantry in dense terrain and urban combat zones. It is feared by all enemies because of its ability to cover a wide area with flames and cause horrific losses to units that cluster together. It is used by the Alliance of Nations and the Imperialist Alliance
Ad blocker interference detected!
Wikia is a free-to-use site that makes money from advertising. We have a modified experience for viewers using ad blockers

Wikia is not accessible if you've made further modifications. Remove the custom ad blocker rule(s) and the page will load as expected.