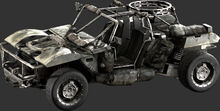 The ISA Jeep, affectionally called the "Buggy" by the troops, is a light all-purpose vehicle, ideal for recon missions and staging hit-and-run assaults against infantry or lightly armored vehicles. It is very fast and agile, while having virtually no armor to ensure it maintains a small frame. It is used primarily for quick troop deployment and general transportation once a surface presence has been established. The jeep is lightly armored and equipped with a top mounted machine gun and a passenger mounted light machine gun.
Ad blocker interference detected!
Wikia is a free-to-use site that makes money from advertising. We have a modified experience for viewers using ad blockers

Wikia is not accessible if you've made further modifications. Remove the custom ad blocker rule(s) and the page will load as expected.