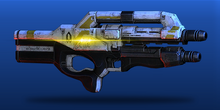 The Imperial Harrier is an assault rifle. These Imperial-modified Mattock rifles are fully automatic. Imperial gunsmiths reined in the recoil issues, resulting in a gun that stays on target but delivers slightly less punch per round than a standard Mattock. As such, the weapon is typically utilized by Imperial Stormtroopers who train constantly to make every burst count.
Ad blocker interference detected!
Wikia is a free-to-use site that makes money from advertising. We have a modified experience for viewers using ad blockers

Wikia is not accessible if you've made further modifications. Remove the custom ad blocker rule(s) and the page will load as expected.