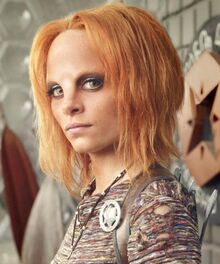 The Irathients (Second Human Empire: Hamo Duyyi'uuiki Poil'lio) are a member race of the Votans and the most populace of the Votan races on the planet Defiance Earth. Irathients have broad and flat nasal bridges, reddish skin and often have red hair. Irathients are naturally athletic and have intense combat skills. They are a proud, tribal people with a deep love of the natural world and aggressive demeanor. They are often perceived as feral by others. Irathients are handsome and naturally athletic. They are fierce fighters and pride themselves on their low-tech hand-to-hand combat skills. Irathients greet each other with their hands out and the word eseneziri, which literally means "Without concealed weapons or hidden agendas." The Irathients are the major members of the Coalition of Independent States.
Ad blocker interference detected!
Wikia is a free-to-use site that makes money from advertising. We have a modified experience for viewers using ad blockers

Wikia is not accessible if you've made further modifications. Remove the custom ad blocker rule(s) and the page will load as expected.