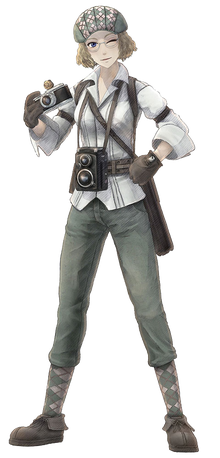 Irene Ellet is a determined news correspondent of GBS radio station who appears. She has her own newspaper, "The Writing on the Wall", while she covers Alliance of Nations during the First War happened on Vi'iikiye Earth. As the war progresses, she also gives Alliance reports, but for a fee, as she claims that "I'll be paying for everything out of my own pocket". She is capable of accurately reporting events without any bias or prejudice. In a time when most nations are implementing press restraints, she will be following the men and women of Alliance to deliver what is actually happening in the battlefront on her home universe.
Biography
Edit
Profession
Edit
Personality
Edit
Family and Relatives
Edit
Close Friends
Edit
Ad blocker interference detected!
Wikia is a free-to-use site that makes money from advertising. We have a modified experience for viewers using ad blockers

Wikia is not accessible if you've made further modifications. Remove the custom ad blocker rule(s) and the page will load as expected.