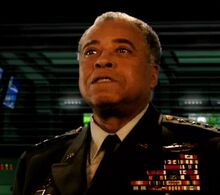 General James Solomon is an US army officer who is the Chief Commander of the Alliance of Nations. He graduated from West Point[2] and completed the US Army Ranger School programme,[3] and after serving in the US military, transferred to the Alliance of Nations, as a very competent officer, immediately receiving orders straight from GDI supreme commander Mark Sheppard and colonels J.C. Carter and M.O. Morelli. He was part of the Ciz'lokki conflict
Ad blocker interference detected!
Wikia is a free-to-use site that makes money from advertising. We have a modified experience for viewers using ad blockers

Wikia is not accessible if you've made further modifications. Remove the custom ad blocker rule(s) and the page will load as expected.