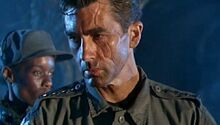 John Connor, is the son of Sarah Connor and Kyle Reese, and the leader of the worldwide human resistance found in the Terminator universe, as well as the more specialised Tech-Com. Skynet, the supercomputer mainframe of the machines, decides that John Connor is the focal point of the rebellion and his termination would end the opposition.
Ad blocker interference detected!
Wikia is a free-to-use site that makes money from advertising. We have a modified experience for viewers using ad blockers

Wikia is not accessible if you've made further modifications. Remove the custom ad blocker rule(s) and the page will load as expected.