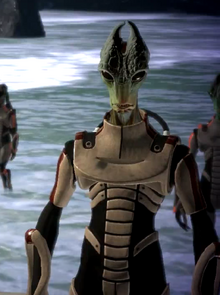 Kirrahe is an officer in the salarian military. He is a member of the 3rd Infiltration Regiment STG (Special Tasks Group), a covert operations team that was sent to investigate Virmire, where he discovered Saren Arterius' base of operations. Kirrahe is a brave, intelligent salarian with a good strategic mind; he is able to inspire his men, and is also prepared to make sacrifices if necessary. His second-in-command is Commander Rentola.
Ad blocker interference detected!
Wikia is a free-to-use site that makes money from advertising. We have a modified experience for viewers using ad blockers

Wikia is not accessible if you've made further modifications. Remove the custom ad blocker rule(s) and the page will load as expected.