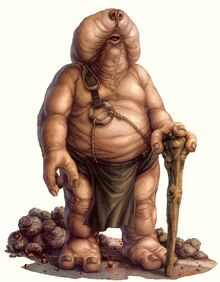 Kitonaks were pudgy, slow-moving sentients from the harsh Kurdan Desert which covered the planet Kirdo III. Their physiology was an adaptation to their life as desert nomads, while their psychology was notable for their extreme patience and calm. They were also noted for their talent as musicians. The Kitonak joined the Alliance of Nations
Ad blocker interference detected!
Wikia is a free-to-use site that makes money from advertising. We have a modified experience for viewers using ad blockers

Wikia is not accessible if you've made further modifications. Remove the custom ad blocker rule(s) and the page will load as expected.