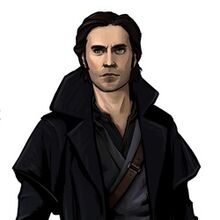 Kyp Durron was a Human male who was a polarizing figure in galactic history, both a leading Allied in Alliance Joint Military and a man responsible for many deaths during his anti-Axis rampage. Incarcerated in the spice mines of Kessel by the Galactic Empire at an early age, Durron's deep anger against his imprisoners was easily exploited by the spirit of Dark Lord of the Sith Exar Kun, once Han Solo rescued the young Force-sensitive and took him to Luke Skywalker's Jedi Praxeum on Yavin 4.
Ad blocker interference detected!
Wikia is a free-to-use site that makes money from advertising. We have a modified experience for viewers using ad blockers

Wikia is not accessible if you've made further modifications. Remove the custom ad blocker rule(s) and the page will load as expected.