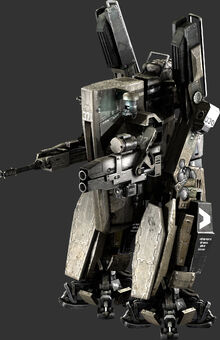 The Exoskeleton is a bipedal weapon platform which represents the latest in the ISA's development of war machines. It was used by Allied forces in the First Multiverse War against the Axis. Fast and agile, the ISA Exoskeleton is ideal for providing support for convoys, as it is able to traverse even the most difficult of terrain, as opposed to being confined to established trails and roads. Furthermore, it is rugged and reliable enough to withstand the worst of electric storms. It is equipped with advanced armor plating, a left arm-mounted 70 mm rocket launcher, and a right arm-mounted M224 HOMAG machine gun.
Ad blocker interference detected!
Wikia is a free-to-use site that makes money from advertising. We have a modified experience for viewers using ad blockers

Wikia is not accessible if you've made further modifications. Remove the custom ad blocker rule(s) and the page will load as expected.