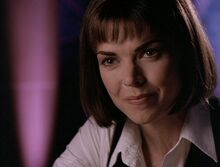 Lili Marquette was a captain in the Alliance Joint Marines. She was second in command under William Boone as protector to the American Companion Da'an. Lili went through flight training with Paul Chandler. Chandler later became an space pilot and was scheduled to fly an mission to Coruscant. When the mission was cancelled, Paul stole Lili's shuttle to complete it. She was part of the Endor War
Ad blocker interference detected!
Wikia is a free-to-use site that makes money from advertising. We have a modified experience for viewers using ad blockers

Wikia is not accessible if you've made further modifications. Remove the custom ad blocker rule(s) and the page will load as expected.