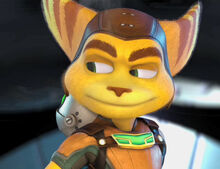 A Lombax (Second Human Empire: ?) was a bipedal, humanoid species that originated in the Polaris Galaxy from the planet Fastoon. Known throughout the galaxy for their mechanical and technological ingenuity, Lombaxes were cat-like and completely covered in either yellow or white velvety fur, with orange or maroon coloured stripes running down parts of their body.[1][2] They had large ears and triangular feet with three claws on each foot, as well as large hands with five fingers. All known Lombaxes wore gloves, so it was possible that generally most Lombaxes wore gloves. Lombaxes joined the Alliance of Nations
Ad blocker interference detected!
Wikia is a free-to-use site that makes money from advertising. We have a modified experience for viewers using ad blockers

Wikia is not accessible if you've made further modifications. Remove the custom ad blocker rule(s) and the page will load as expected.