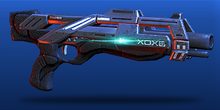 The M-23 Katana Shotgun is a shotgun. Manufactured by Ariake Technologies, the Katana is a common mercenary weapon, and is also popular on colonies with Varren infestations. It's deadly at short range, but ineffective at long range. It is used by the Coalition of Independent States
Ad blocker interference detected!
Wikia is a free-to-use site that makes money from advertising. We have a modified experience for viewers using ad blockers

Wikia is not accessible if you've made further modifications. Remove the custom ad blocker rule(s) and the page will load as expected.