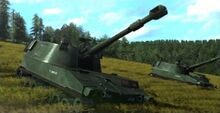 The M109 is an American 155mm self-propelled howitzer, first introduced in the early 1960s. It was upgraded a number of times to today's M109A6 Paladin. The M109 family is the most common Western indirect-fire support weapon of maneuver brigades of armored and mechanized infantry divisions. The M109 has a crew of six: the section chief, the driver, the gunner, the assistant gunner and two ammunition handlers. The gunner aims the cannon left or right (deflection), the assistant gunner aims the cannon up and down (quadrant). The M109A6 Paladin needs only a crew of four: the commander, driver, gunner and ammunition loader. The M109 is used by the Alliance of Nations and the Coalition of Independent States
Ad blocker interference detected!
Wikia is a free-to-use site that makes money from advertising. We have a modified experience for viewers using ad blockers

Wikia is not accessible if you've made further modifications. Remove the custom ad blocker rule(s) and the page will load as expected.