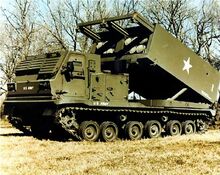 The M270 Multiple Launch Rocket System (M270 MLRS) is an armored, self-propelled, multiple rocket launcher; a type of rocket artillery. The weapon can fire guided and unguided projectiles up to 42 km (26 mi). Firing ballistic missiles, (such as the U.S. Army Tactical Missile System—ATACMS), it can hit targets 300 km (190 mi) away; the warhead in such shots reaches an altitude of about 50 km (164,000 ft). The M270 can be used in shoot-and-scoot tactics, firing its rockets rapidly, then moving away to avoid counter-battery fire. Since the M270s were delivered to the Alliance of Nations, the MLRS has been adopted by Axis of Empires and Coalition of Independent States.
Ad blocker interference detected!
Wikia is a free-to-use site that makes money from advertising. We have a modified experience for viewers using ad blockers

Wikia is not accessible if you've made further modifications. Remove the custom ad blocker rule(s) and the page will load as expected.