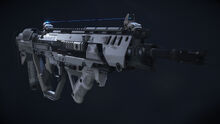 The M55 Rumbler is a VSA assault rifle and the successor to the wildly popular M82 Assault Rifle. It is the new standard rifle for the VSA and ISA forces, and has many similarities to its predecessor. The M55 shares the standard VSA design philosophy, valuing accuracy and stability. Like the M82, the Rumbler is a bullpup design chambered for the 6.8x43mm round. The major visual differences are the replacing of more rounded, ergonomic forms with angular sides that resemble a stealth plane.
Ad blocker interference detected!
Wikia is a free-to-use site that makes money from advertising. We have a modified experience for viewers using ad blockers

Wikia is not accessible if you've made further modifications. Remove the custom ad blocker rule(s) and the page will load as expected.