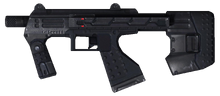 The M7/Caseless Submachine Gun,[2] more simply known as the SMG, is a United Nations Space Command infantry and special operations weapon. A suppressed version of the M7/Caseless Submachine Gun, known simply as the M7S Submachine Gun, is also available for UNSC special operations. It is used by the Alliance of Nations and preferred weapon of Maya and Sabine Wren. The M7/Caseless Submachine Gun is a fully automatic UNSC submachine gun that fires from a 60-round magazine which is placed horizontally on the left side of the weapon. Due to the odd horizontal placement of the magazine on the weapon, it can be assumed that the magazine utilizes a circular ramp where the magazine meets the breech. This rotates the vertically stacked rounds in the magazine 90 degrees until they align with the horizontal breech. An example of this can be seen in the present day Fabrique Nationale P90 SMG.
Ad blocker interference detected!
Wikia is a free-to-use site that makes money from advertising. We have a modified experience for viewers using ad blockers

Wikia is not accessible if you've made further modifications. Remove the custom ad blocker rule(s) and the page will load as expected.