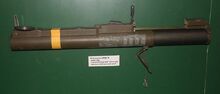 The M72 LAW (Light Anti-Tank Weapon, also referred to as the Light Anti-Armor Weapon or LAW as well as LAWS Light Anti-Armor Weapons System) is a portable one-shot 66 mm unguided anti-tank weapon. The solid rocket propulsion unit was developed in the newly formed Rohm and Haas research laboratory at Redstone Arsenal in 1959 (1297), then the full system was designed by Paul V. Choate, Charles B. Weeks, Frank A. Spinale, et al. at the Hesse-Eastern Division of Norris Thermadore. American production of the weapon began by Hesse-Eastern in 1963 (1301), and was terminated by 1983 (1321); currently it is produced by Nammo Raufoss AS in Norway and their subsidiary Nammo Talley, Inc. in Arizona. They were adopted by the Alliance of Nations, Axis of Empires and the Coalition of Independent States
Ad blocker interference detected!
Wikia is a free-to-use site that makes money from advertising. We have a modified experience for viewers using ad blockers

Wikia is not accessible if you've made further modifications. Remove the custom ad blocker rule(s) and the page will load as expected.