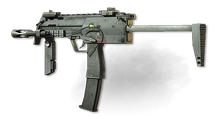 The MP7 is a German Personal Defence Weapon (PDW) manufactured by Heckler & Koch (H&K) and chambered for the HK 4.6×30mm cartridge. It was designed with the new cartridge to meet NATO requirements published in 1989 (1327), as these requirements call for a personal defense weapon (PDW) class firearm, with a greater ability to defeat body armor than current weapons limited to conventional pistol cartridges. The MP7 went into production in 2001 (1339). It is a direct rival to the FN P90, also developed in response to NATO's requirement. The weapon has been revised since its introduction and the current production versions are the MP7A1 and newest MP7A2. The proliferation of high-quality body armour has begun to make guns that fire pistol ammunition (such as Heckler & Koch's earlier MP5 submachine gun or USP pistol) ineffective. In response to this trend, Heckler & Koch designed the MP7 (along with the now cancelled UCP pistol, which uses the same ammunition) to penetrate body armor, but small enough to be used in place of either a pistol or a submachine gun. The MP7 is used by the Alliance of Nations and the Axis of Empires.
Ad blocker interference detected!
Wikia is a free-to-use site that makes money from advertising. We have a modified experience for viewers using ad blockers

Wikia is not accessible if you've made further modifications. Remove the custom ad blocker rule(s) and the page will load as expected.