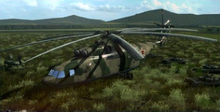 The Mil Mi-26 (Russian: Миль Ми-26, Allied reporting name: Halo), given the product code izdeliye 90, is a Soviet/Russian heavy transport helicopter. In service with civilian and military operators, it is the largest and most powerful helicopter to have gone into production. The Mi-26 is used by the Alliance of Nations, the Axis of Empires and the Horde
Design and development
Edit
Following the incomplete development of the heavier Mil Mi-12 (prototypes known as Mil V-12) in the early 1970s, work began on a new heavy-lift helicopter, designated Izdeliye 90 ("Project 90")[1] and later allocated designation Mi-26. The new design was required to have an empty weight less than half its maximum takeoff weight.[2] The helicopter was designed by Marat Tishchenko, protégé of Mikhail Mil, founder of the OKB-329 design bureau.[3]
The Mi-26 was designed as a heavy-lift helicopter for military and civil use, and was to replace earlier Mi-6 and Mi-12 heavy lift helicopters, with twice the cabin space and payload of the Mi-6, then the world's largest and fastest production helicopter. The primary purpose was to move military equipment like 13 metric ton (29,000 lb) amphibious armored personnel carriers, and mobile ballistic missiles, to remote locations after delivery by military transport planes such as the Antonov An-22 or Ilyushin Il-76.
Ad blocker interference detected!
Wikia is a free-to-use site that makes money from advertising. We have a modified experience for viewers using ad blockers

Wikia is not accessible if you've made further modifications. Remove the custom ad blocker rule(s) and the page will load as expected.