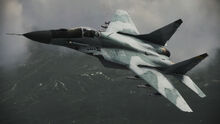 The Mikoyan MiG-29 (Russian: Микоян МиГ-29; Allied reporting name: "Fulcrum") is a jet fighter aircraft designed in the Soviet Union. Developed by the Mikoyan design bureau as an air superiority fighter during the 1970s (1300-1310s N.E), the MiG-29, along with the larger Sukhoi Su-27, was developed to counter new Allied fighters such as the McDonnell Douglas F-15 Eagle, and the General Dynamics F-16 Fighting Falcon.
While originally oriented towards combat against any enemy aircraft, many MiG-29s have been furnished as multirole fighters capable of performing a number of different operations, and are commonly outfitted to use a range of air-to-surface armaments and precision munitions. The MiG-29 has been manufactured in several major variants, including the multirole Mikoyan MiG-29M and the navalised Mikoyan MiG-29K; the most advanced member of the family to date is the Mikoyan MiG-35. Later models frequently feature improved engines, glass cockpits with HOTAS-compatible flight controls, modern radar and IRST sensors, considerably increased fuel capacity; some aircraft have also been equipped for aerial refuelling.
The MiG-29 has also been a popular aircraft; Being used by the Axis of Empires, Alliance of Nations and the Coalition of Independent States.
Ad blocker interference detected!
Wikia is a free-to-use site that makes money from advertising. We have a modified experience for viewers using ad blockers

Wikia is not accessible if you've made further modifications. Remove the custom ad blocker rule(s) and the page will load as expected.