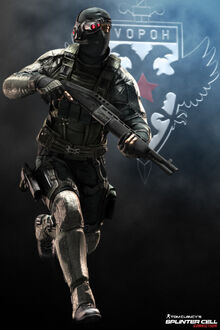 Kestrel (real name: Mikhail Andreyevitch Loskov (Russian: Михаил Андреевич Лоськов), was a field operative for Voron (rough translation: Raven), an SVR special operations group and a Russian loyalist. According to command observations, Kestrel is "reclusive", "introverted" and "unforgiving".[1] Through much of Kestrel's dialogue, it is further shown how he is very calm and collected.
Ad blocker interference detected!
Wikia is a free-to-use site that makes money from advertising. We have a modified experience for viewers using ad blockers

Wikia is not accessible if you've made further modifications. Remove the custom ad blocker rule(s) and the page will load as expected.