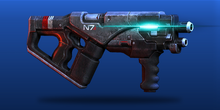 The N7 Hurricane is a submachine gun. While some militaries pass on the Hurricane because of its lower accuracy, the Alliance feels the gun's rapid firing rate offers excellent suppressive fire. A disciplined marksman can use the fully automatic submachine gun to chew through targets with alarming speed. Alliance officers were so pleased with field results that the Hurricane is now many squadrons' standard-issue SMG.
Ad blocker interference detected!
Wikia is a free-to-use site that makes money from advertising. We have a modified experience for viewers using ad blockers

Wikia is not accessible if you've made further modifications. Remove the custom ad blocker rule(s) and the page will load as expected.