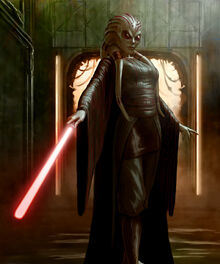 The Nautolans (Second Human Empire: Bui'tji Suik'niji), sometimes referred to as the Nautiloids, were an amphibious humanoid species from the planet Glee Anselm. Although they established settlements across their aquatic homeworld, most Nautolan civilization was found in the Sabilon region. The most well known Nautolan was Jedi Master Kit Fisto, a hero of the Clone Wars and member of the Jedi Council. Nautolans possessed physiology common to amphibious species, including low light vision and excellent swimming skills. They stood an average of 1.8 meters, had smooth green, blue, or brown skin, and large black or dark maroon eyes with lids that were seldom used. They were capable of breathing underwater; however, unlike other water-based species, Nautolans did not experience difficulties out of water. The Nautiloids joined the Alliance of Nations
Ad blocker interference detected!
Wikia is a free-to-use site that makes money from advertising. We have a modified experience for viewers using ad blockers

Wikia is not accessible if you've made further modifications. Remove the custom ad blocker rule(s) and the page will load as expected.