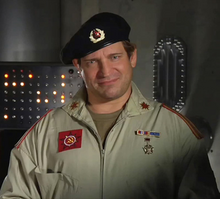 Oleg Vodnik (Russian: Олег Водник) is a Axis commander. Oleg Vodnik is one of the few conscripts that manage to survive long enough to be promoted. A casual and informal commander, he has proven that he is a competent commander. He is quite popular among his underlings. Later he became tank commander and now he leads the Axis's mightiest armor divisions.[2] He takes a particular liking to the heavy armor units of the Axis Of Empires, as a former tank commander. His men tend to appreciate his lack of formality, though his superiors sometimes don't. He was also the commander of the Grad
Ad blocker interference detected!
Wikia is a free-to-use site that makes money from advertising. We have a modified experience for viewers using ad blockers

Wikia is not accessible if you've made further modifications. Remove the custom ad blocker rule(s) and the page will load as expected.