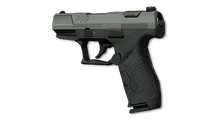 The Walther P99 is a semi-automatic pistol developed by the German company Carl Walther GmbH Sportwaffen of Ulm for law enforcement, security forces and the civilian shooting market as a replacement for the Walther P5 and the P88. The P99 and its variants are also made under licence by Fabryka Broni Radom. The P99 is used by the Alliance Joint Police Agency
Ad blocker interference detected!
Wikia is a free-to-use site that makes money from advertising. We have a modified experience for viewers using ad blockers

Wikia is not accessible if you've made further modifications. Remove the custom ad blocker rule(s) and the page will load as expected.